Guild Progress
Serpentshrine Cavern: [6/6]
Tempest Keep: [4/4]
Mount Hyjal: [5/5]
Black Temple: [9/9]
Sunwell Plateau: [2/6]
Statistics
We have 49 registered users
The newest registered user is taijuanisa

Our users have posted a total of 269 messages in 64 subjects

New Forum
Fri Nov 28, 2008 3:50 am by OfficerTeam
To all community that visits Safari forums we want you to know that we recently moved our forum location to a different location.
Our members asked for new features so we had to move to a different provider so you all can have access to the new exiting features that will improve our guild management.



You can find us on this URLs:
Our domain: http://safari.pt.vu
Direct URL : http://safari.webpuzzle.biz/safari2/smf/

See you on the other side....


Comments: 0
Death Knight Wing Cleared!
Mon Nov 24, 2008 5:22 pm by Shaddai
Death Knight Wing Cleared!

For once, we actually deserved the loot we got this time, especially with The Four Horsemen.

Now that we have completely ravashed pretty much all of Naxxramas, we will scour the remnants of small pockets of resistance. We will purify the Abomination wing and the dreaded Patchwerk of their malignant curse. After that, it's all in the name of glory.





Gothik, the Harvester
The Four Horsemen



We are becoming faster, sharper, stronger. It won't be long until we will start raiding with 25 (wo)men and collect the real prizes. Fortunately, we already have a few decently geared people to provide the big boost, making this a really smooth progress career.

Congratulations to Kyougou (for his millionth Naxx epic, him crying the other day about being the only tank without Naxxramas gear), Hallabro, Grothrok and Credit for the phat lewtz. More to come!

On with the

[ Full reading ]
Comments: 0
Killshot!
Sun Nov 23, 2008 5:30 pm by Shaddai
So I'd especially like to thank our outstanding members for their superior performance, activity and good will. Yes, all of you. But I have to give a little pat on the shoulders of Kyougou (aka Launcelot, Nikusa) for his outstanding performance and to Hallabro for showing that 2 healers can easily pull this off. It would be impossible without both of you.

Congratulations also to the epic looters. The loot that has been dropping is a solid upgrade from our stuff, too bad it isn't dropping in bigger amounts (yeah, yeah, I know we're doing it 10 man). But I guess I got spoiled from TBC. In all honesty, the rewards are fair considering the [lack of] effort needed to get a bosskill.

It's still a fun instance, and I can't wait for us to go to the next step.

A small update then, with "living" (actually, they're dead?) proof, now with Spider Wing and Plague Wing cleared. Death Knight Wing underway.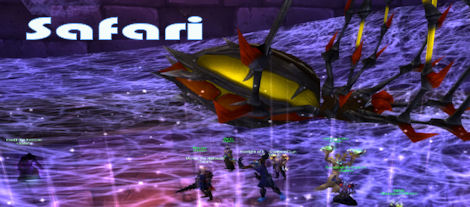 Maexxna
Noth
Heigan
Loatheb
Razuvious




[ Full reading ]
Comments: 2
2 down 13 to go
Thu Nov 20, 2008 7:35 pm by Nocturnum
Although the title may now look as good, the truth is that Safari successfully raided Naxxramas today at 21:30 server time.

With a group of nabs led by the biggest of the nabs, Safari managed to get Anub'Rekhan and Grand Widow Faerlina down in the first raid ever at Naxxramas. None of our players have ever had the pleasure of being inside Naxx, so, no one knew exactly what to do, where to go and what to say, but even so we did a good damn job in there, congratulations to everyone that was present during this event.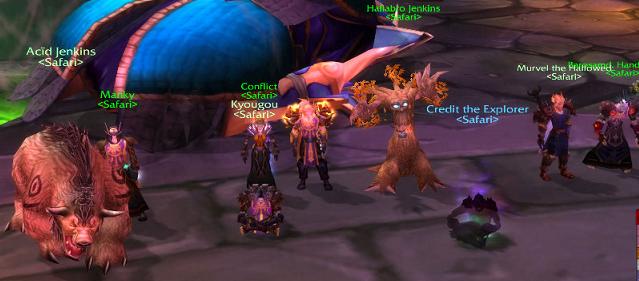 Now a bigger news about what really happened:
Our journey to the deeps of Naxx started bad as hell, since we decided to go directly to Patchwerk. After 4 attempts we manage to realize that it was impossible to kill him due to the lack of tanking gear we had. Altough an excelent player, Kyougou asa Nikusa didn't had equip on his warrior to lead us to victory, being some times one shoted by Patchwerk. So after 4 attempts instead of giving up, we just decided to go for a different approach and went to another Quarter... The Arachnid Quarter.

In there we got face to face with Anub'Rekhan that died after 2 …

[ Full reading ]
Comments: 2
First raid comming
Thu Nov 20, 2008 6:01 am by Nocturnum


That's right my friends, today Safari will do the first Wrath of the lich king raid. I hope that every level 80 gets online so we can pwn everything and everyone. The raid will start at normal hours, 9 server time and it will end at midnight making a total of 3 hour raids.

Lets pray that 3 hours is more then enough to kill Kel'Thuzad... if it isn't we'll probably finish the job tomorrow. And for every slacker that doesn't know what to do here's the link for a complete Strategy Guide for Naxxramas -> Click Here <-

Also don't forget to have the latest version of ventrilo installed on your pc and grab a lot of coca-colas and cigarettes because you're going to need it! Leading the raid will be Noturna playing on Shaddai's char (yeah the wanker as to go to a dinner and since Noturna doesn't has a level 80 char he just has to play with Shaddai char... nub class btw!)

I expect a total of 3 healers, 2 tankers and 5 dps. With a backup player pool of 4 during the 3 hours so if anything strange happens and someone has to leave we can replace that person asap.

Now good luck to all! May the god of epix be with

[ Full reading ]
Comments: 0
Safari is Recruting
Thu Nov 06, 2008 12:46 pm by OfficerTeam
Safari needs you. Because of the migration from Grim Batol to Burning Steppes, we lost some of our guild members. Now its time to prepare ourselves for the Wrath of the Lich King.





We are looking for dedicated players to join out guild. We start raiding at 21h server time and we finish at 0h30.
We tend to value skill and personality above everything else. In terms of skill, we value the ability of the player to maximize the potential of his character (in spite of class/spec) and to constantly research new ways of becoming even better. We also value people who can listen and follow our advice during raids to their best. We are looking for people who are superstars, who are a beacon of skill in their circle of friends.



WE NEED YOU




Comments: 0
Landing on Burning Steppes
Thu Nov 06, 2008 12:30 pm by OfficerTeam
Goodbye Grim Batol hello Burning Steppes. Safari guild migrated to Burning Steppes this week.
We were tired of the queues and the high latency of Grim Batol server so we decided to move.
Some of our members were left behing in this migration processes, so we will need to recruit a few more members to start raiding in the next Blizzard Expantion.





It's been a fun to play in Grim Batol, but now its time to raid with decent latency, since Burning Steppes it's a server based in France where we have better gaming conditions

Now its time to work, we will need to get ready for WOTLK.


Comments: 0
Welcome to Safari
Thu Nov 06, 2008 4:24 am by OfficerTeam
Welcome to Safari's website. Safari is an international guild playing World of Wacraft in the European server network.

Founded during the early months of 2008, we have a back story preceeded
by the foundation of Portus Cale pre-TBC and a merge with One Vision
during the launch of The Burning Crusade. Many of us stopped playing
due to real life issues, and now we're back stronger than ever with a
few core members from both One Vision and Portus Cale.

Fortunately, we have gotten many more talented players and we're now
aiming for Arthas, while taking a crack at Kil'Jaeden on our way to
Northrend. We are proud to have a relatively mature membership with
players dedicated to do nothing short of their best during and outside
raids.

It is exactly our maturity which allows us to speak sometimes in a
harsher language or make a little more sensitive jokes. We know we are
all here for the same and we love eachother, and if sometimes something
a little tougher is said it's not meant to offend. There's always a
point behind it, either being making a quick joke or making people
understand their need for improvement.

The core principles are loyalty and mutual respect. We …

[ Full reading ]
Comments: 0
April 2019
Mon
Tue
Wed
Thu
Fri
Sat
Sun

1

2

3

4

5

6

7

8

9

10

11

12

13

14

15

16

17

18

19

20

21

22

23

24

25

26

27

28

29

30

Calendar